Adelaide Home Handyman Tips – Different Types of Flyscreens
What is the best type of flyscreen for you?
Getting an Adelaide handyman to install quality flyscreens around your home provides a variety of benefits for homeowners. Not only do they keep pesky insects out, but they also make your living area much more comfortable by allowing cool, fresh air to circulate throughout the home.
Benefits of fly screens
If you've ever been woken by a swarm of mosquitoes attacking you in the middle of the night, you probably don't need much convincing about the benefits of flyscreens. Keeping annoying insects outside where they belong is one of their biggest advantages.
Not only will you sleep more soundly, but flyscreens will also allow you to prepare food in peace, as you won't have to keep your windows closed to keep the flies away while you prepare lunch or dinner.
Flyscreens will also make your home more energy efficient. Keeping windows and doors closed on even mildly warm days can make the inside of your home unbearably stuffy. Most people will compensate by turning on the air conditioner.
Being able to open the windows and doors without worrying about insects will mean fewer days when you need to use the air conditioner. These are power-hungry appliances, so the less you have to use them, the more money you will save on your power bills.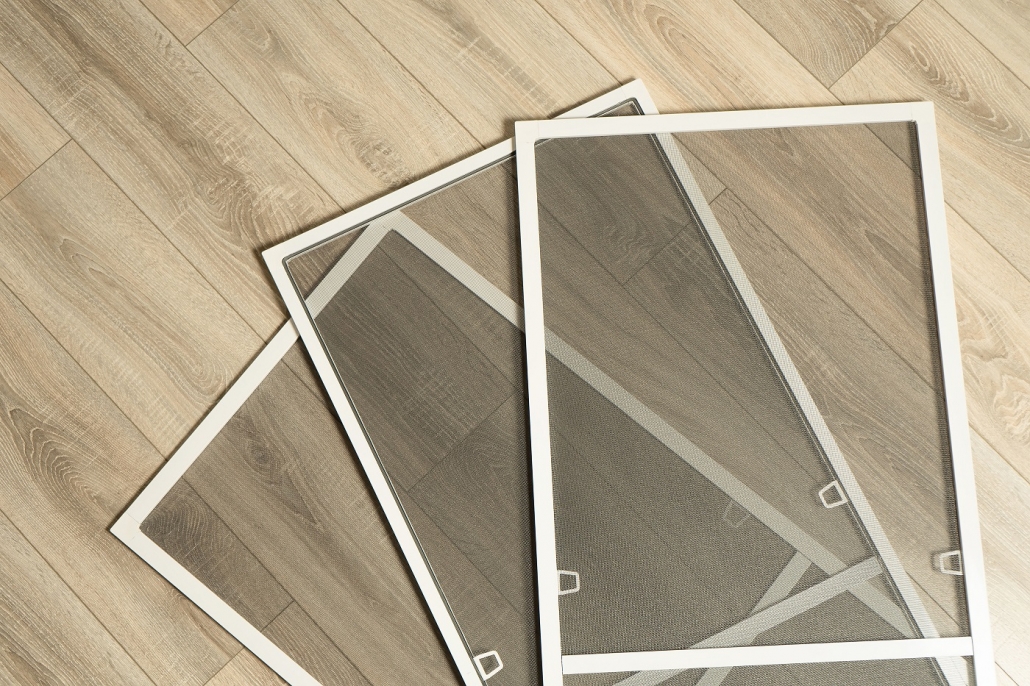 Different types of flyscreens
There are different types of fly screens and which one you use will depend on your home and your budget.
Sliding fly screens: These screens can be easily rolled up and down as needed and are a great option for homeowners who want the flexibility to open and close their windows and doors as they please.
Magnetic fly screens: A magnetic strip along the edge allows these super-convenient screens to be easily popped on and off a window wherever you need a temporary fly screen. Because they are temporary, they are a great solution for renters who may not have the option of installing permanent flyscreens.
Retractable fly screens: A retractable fly screen works just like a roller blind but uses a fly screen instead of a shade fabric.
Hinged fly screens: As the name suggests, these screens are essentially a flyscreen on a door frame that attaches to the side so they can swing open and shut. They have the advantage of being easily fitted to almost any frame.
Pleated fly screens: These screens are created from a pleated mesh that can be easily opened and closed and work well for entryways that have large sliding doors. Pleated fly screens will need to be custom-made and fitted.
Many flyscreen systems can be installed by just about anyone, but if you aren't too handy or don't have the tools, an Adelaide handyman can help. Call today for expert advice on the best flyscreen solution for your home and say goodbye to flying pests forever.
Need help with the repair or installation of flyscreens in Adelaide?
Do you want to make sure you are getting the right type of flyscreen for your home? Adelaide Home Repairs can assist you with a range of internal and outdoor property maintenance services across Adelaide including repair and replacement of flyscreens. We pride ourselves on offering value, quality and peace of mind. Find out more about our flyscreen repair services right here.
More useful links
https://adelaidehomerepairs.com.au/wp-content/uploads/2020/10/Adelaide-Home-Repairs-Fly-Screen-Repairs-Replacement.jpg
933
1400
admin
https://adelaidehomerepairs.com.au/wp-content/uploads/2020/12/Adelaide-Handyman-300x129.jpg
admin
2023-01-27 12:17:30
2023-01-27 12:23:47
Adelaide Home Handyman Tips – Different Types of Flyscreens